EN / A series of exercises exploring the properties and possibilities of interactive media.
ES / Una serie de ejercicios que exploran las propiedades y posibilidades de los medios interactivos.
FR / Une série d'exercices qui explorent les propriétés et possibilités de médias interactifs.
EN / Circus is composed of four apparently inactive kinetic mechanisms, that start moving when they are left alone. When in motion, the devices are accompanied by a melody that suggests to the listener that there is something going on. Sound becomes an invitation to witness a show that is suddenly stopped when someone approaches.

ES / Circo se compone de cuatro mecanismos cinéticos aparentemente inactivos, que se mueven cuando estan solos. Cuando está en movimiento, son acompañados de una melodía que sugiere al oyente que algo está pasando. El sonido se convierte en una invitación para presenciar un espectáculo que se detiene de repente cuando alguien se acerca.

FR / Cirque est composé de quatre mécanismes cinétiques apparemment inertes pour le spectateur, qui commencent à se bouger lorsque personne ne se trouve pas dans le même espace où ils sont. Lorsqu'ils sont en mouvement, ils sont accompagnée d'une mélodie qui suggère à l'auditeur que la pièce fonctionne, invitant d'une certaine manière à assister au spectacle qui est arrêté brusquement lorsque quelqu'un s'approche.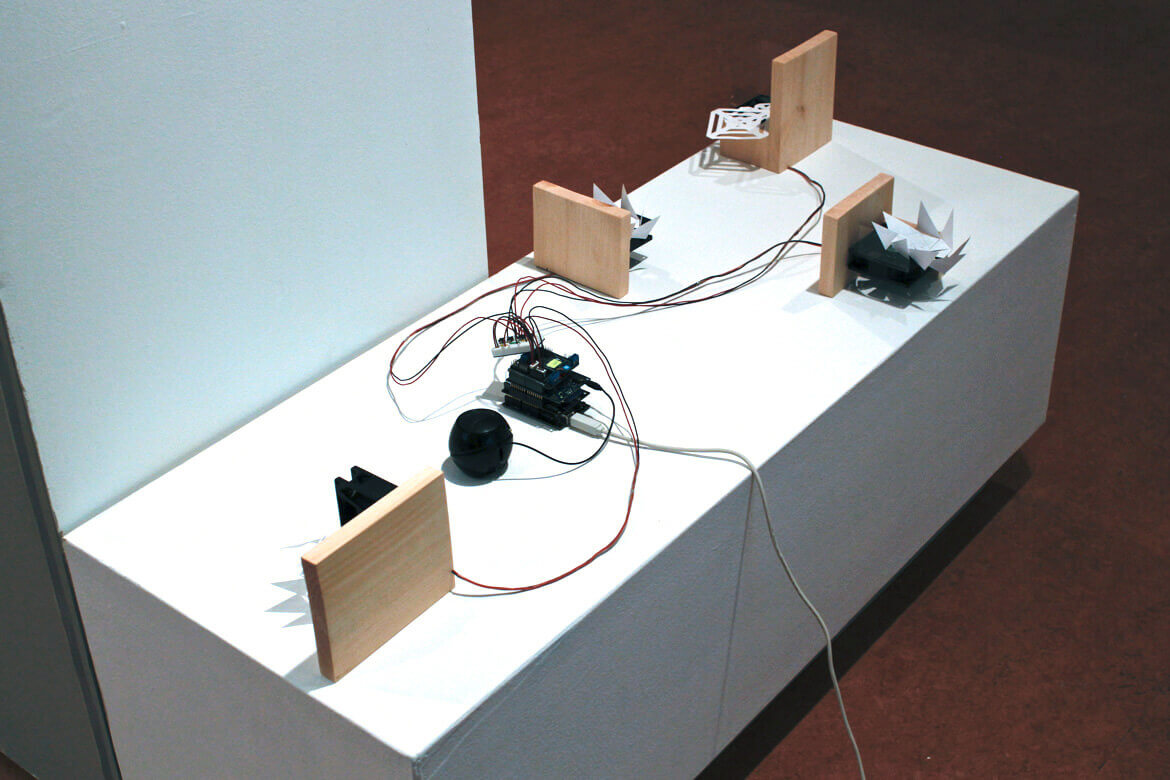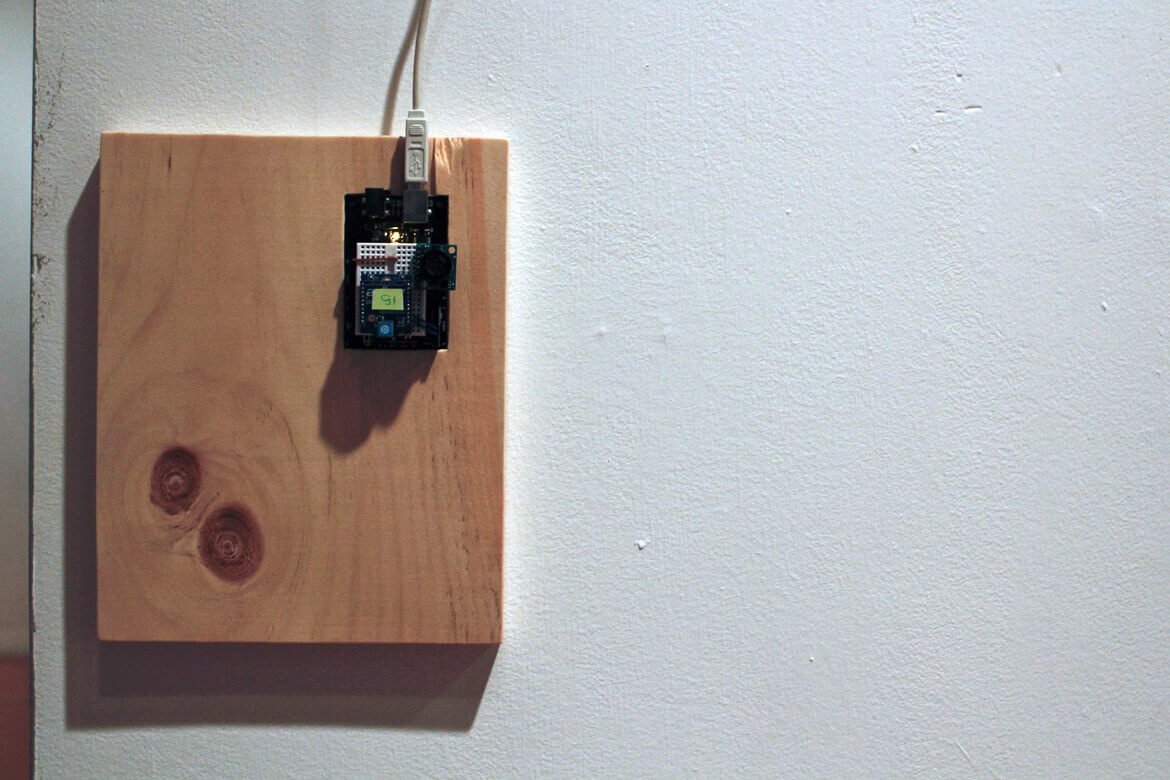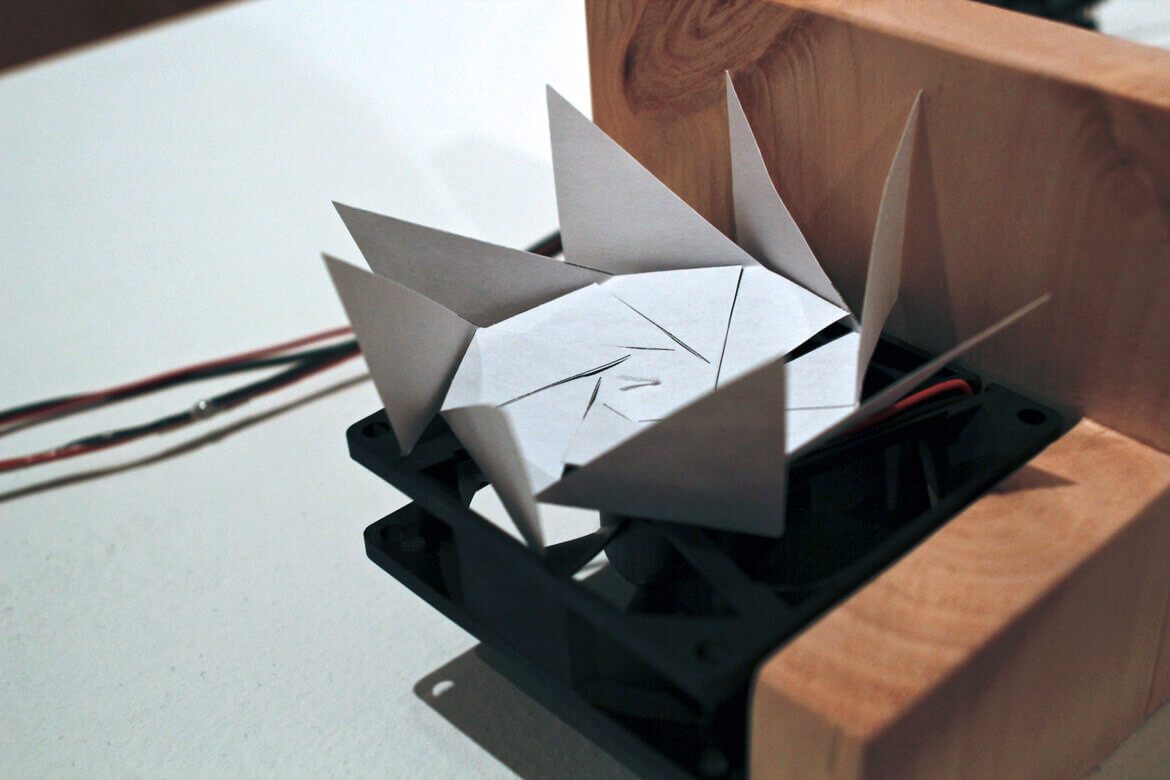 developement / Jaime Patarroyo
photography / Jaime Patarroyo
Université du Québec à Chicoutimi
Production et Démarche Critique
2012
EN / Blow is an interactive piece that reacts with the wind. The viewer is invited to blow into a microphone that detects air pressure changes. If the air flow is strong enough, a hidden mechanism in the same room will go off. This mechanism sounds like a bicycle bell. Breath is an exploration of the relationship between wind and sound and how the viewer can generate changes in space. It is an invitation to discover the source of a noise that comes from nowhere.

ES / Soplo es una pieza interactiva que reacciona con el viento. El espectador es invitado a soplar en un micrófono que detecta los cambios de presión en el aire. Si el flujo de aire es lo suficientemente fuerte, un mecanismo oculto en la misma sala se accionará. Este mecanismo suena como una campana de la bicicleta. Soplo es una exploración de la relación entre el viento y el sonido y cómo el espectador puede generar cambios en el espacio. Es una invitación a descubrir la fuente de un ruido que viene de la nada.
FR / Souffle est une pièce interactive qui réagit avec le vent. Le spectateur est invité à souffler dans un microphone qui détecte les changements de pression d'air. Si le flux d'air est assez fort, un mécanisme caché dans la même salle se déclanche. Ce dernier sonne comme une sonnette de vélo. Souffle est l'exploration de la relation entre le vent et le son et du comment le spectateur peut générer des changements dans l'espace. C'est une invitation à découvrir la source d'un bruit qui vient de nulle part.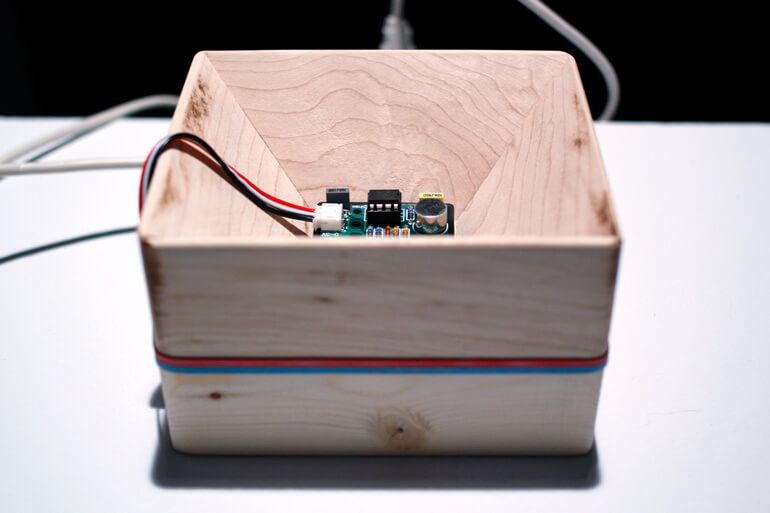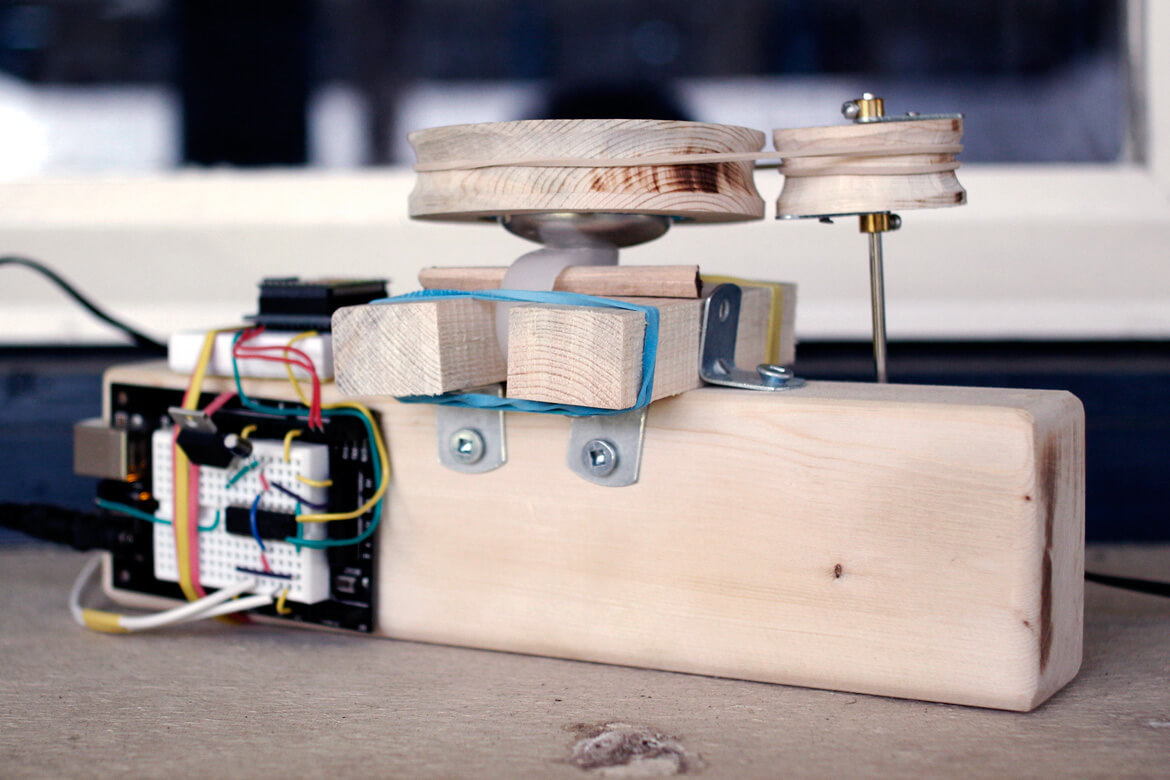 developement / Jaime Patarroyo
photography / Jaime Patarroyo
Université du Québec à Chicoutimi
Production en Art
2013
EN / A microphone, stimulated by sound waves in its environment, sends values to a processor. The processor uses the data transmitted by the microphone to vary a preconceived visual composition. Finally, the composition is sent to a printer that visually materializes the information received. The composition may also be appointed as a variable sound mapping, nourished by the conditions in each space where the device is located. The piece systematizes the process of the artist, but retains its creative essence.
ES / Un micrófono, estimulado por las ondas de sonido en su entorno, envía los valores a un procesador. El procesador utiliza los datos transmitidos por el micrófono para variar una composición visual preconcebida. Finalmente, la composición es envíada a una impresora que materializa visualmente la información recibida. La composición puede ser llamada una cartografía sonora variable, alimentada por las condiciones de cada espacio donde se encuentra el dispositivo. La pieza sistematiza el proceso de la artista, pero conserva su esencia creativa.

FR / Un microphone, stimulée par les ondes sonores dans l'espace, envoi des valeurs à un processeur. Le processeur utilise les chiffres transmis par le microphone pour faire varier une composition visuelle préconçue. Enfin, la composition est envoyée à une imprimante qui matérialise visuellement les informations reçues. La composition peut aussi être nommée en tant que cartographie sonore variable, nourrie par les conditions dans chaque espace où le dispositif se trouve. L'œuvre systématise le processus de l'artiste, mais conserve son essence créative.
Prix du jury, La Releve Sympose au CNE, symposium d'art multidisciplinaire du Centre National d'Exposition, Jonquière QC, Canada, 2013.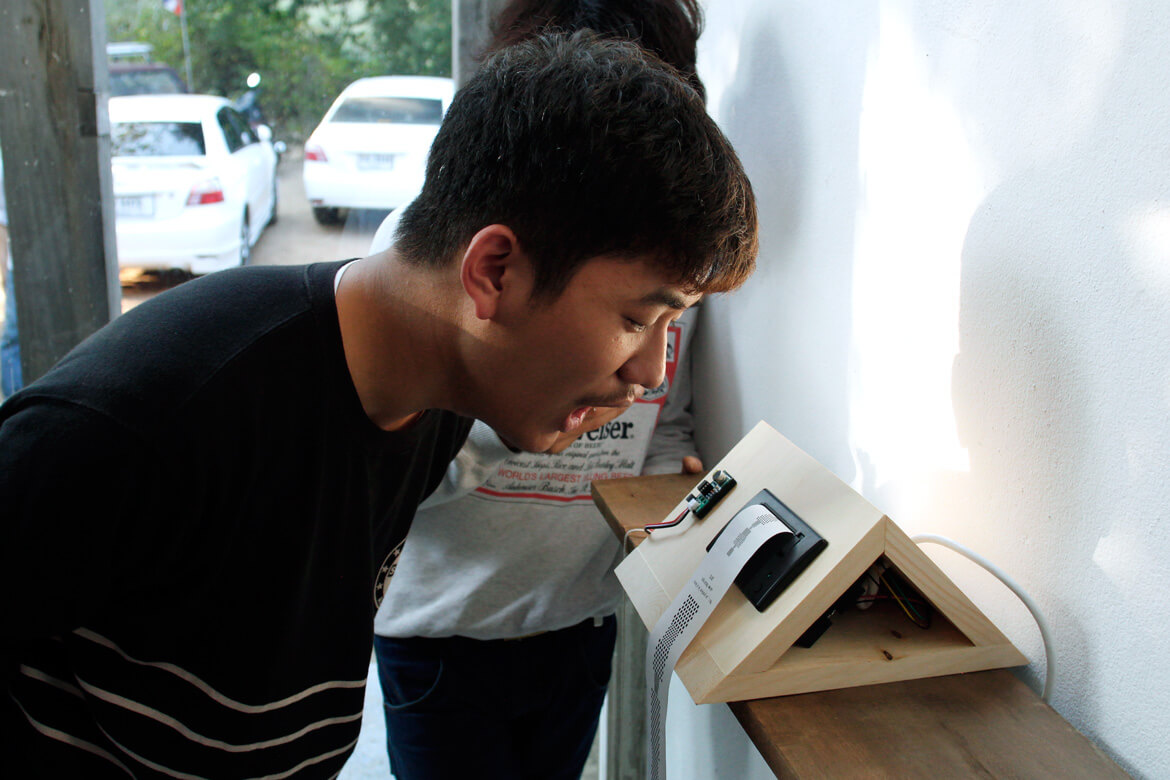 developement / Jaime Patarroyo
photography / Jaime Patarroyo
Université du Québec à Chicoutimi
Art Sonore
2013